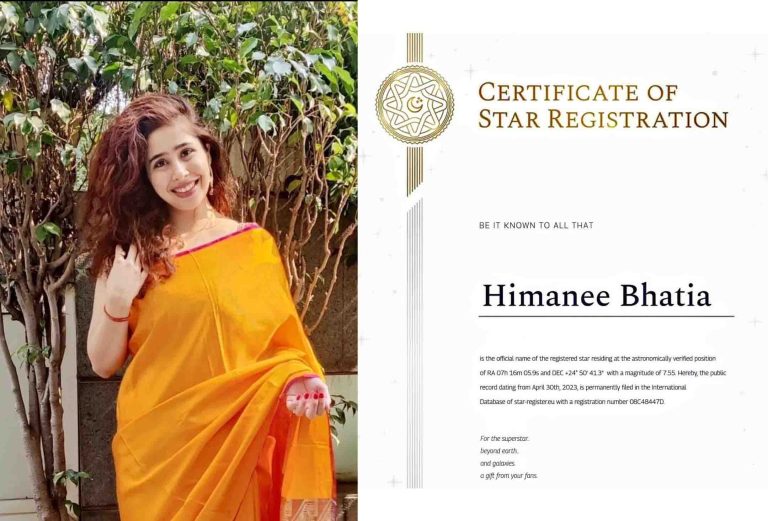 Mumbai : Beloved Indian actress Himanee Bhatia has made headlines thanks to her success.Himanee Bhatia is the most loved actress of our time. After Madhuri Dixit, Himanee Bhatia, fondly called Delhi's Doll is the second Indian actress to have a star named after her in outer space.
The Recognition
A star in the Pisces constellation has been given Himanee Bhatia's name by the International Star Registry (ISR), the biggest private star registry in the world. ISR is a well-known company that enables anyone to buy and give names to stars in the sky, then register in the registry.
The star honoring Himanee Bhatia is considered 4.2 light-years distant from Earth and has a magnitude of 7.55. Its coordinates are RA 07h 16m 05.9s and DEC +24° 50′ 41.3″. The star, which is thought to be comparable to our sun and a yellow dwarf star, is supposed to be about 10 billion years old.
The Significance
Having a star named after you is a great accomplishment and a rare honor. It serves as evidence of the person's accomplishments and societal contributions. Given that Himanee Bhatia is just the second Indian actress to get this accolade after Madhuri Dixit, her accomplishment is all the more impressive.
In 2013, Madhuri Dixit became the first actress from India to have a star named after her in outer space. It is believed that the star bearing her name is around 21,000 light-years from Earth in the Orion
constellation.
Having a star named after you means more than being recognized and honored. It represents the person's legacy and reminds them of their accomplishments for future generations.Himanee is known to win hearts in the world and now she will be winning hearts in the universe!
The Reaction
After discovering that a star was named after her, Himanee Bhatia posted on social media to express her appreciation and delight. "I am profoundly honored and delighted to have a star named after me in the Pisces constellation," she told her fans after learning the news. I'm overcome with thankfulness and delight since it's a true dream.
Conclusion
It is a rare and noteworthy distinction for Himanee Bhatia to have a star named after her in space. It is evidence of her success and contributions to the movie business. Additionally, it represents her legacy and will constantly remind future generations of her accomplishments.This massive Bollywood star is officially a star in space as well, for eternity.