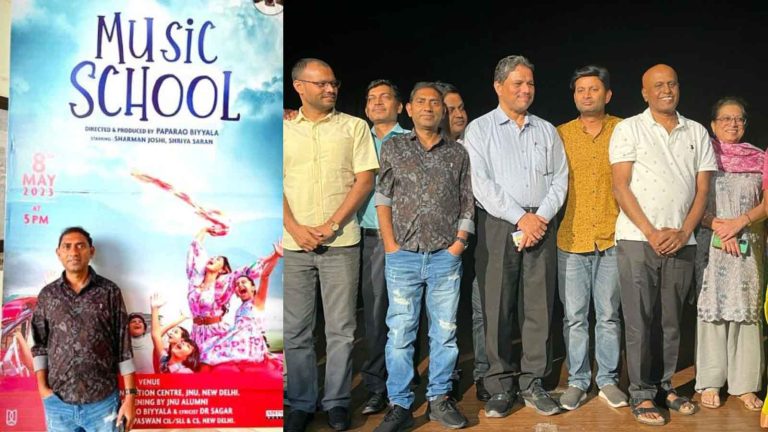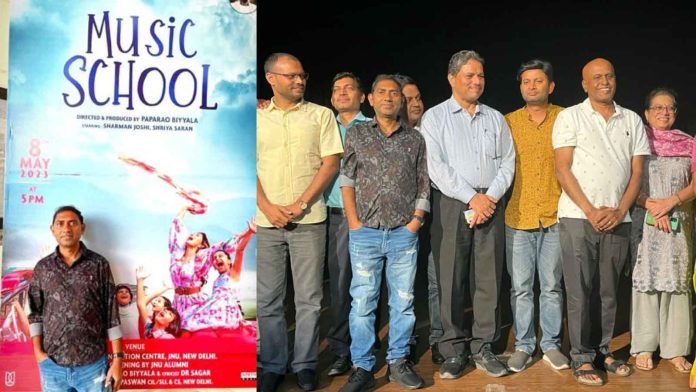 Mumbai : Lyricist Dr. Sagar, renowned for his soul-stirring lyrics in the Indian music industry, recently made a special appearance at Jawaharlal Nehru University (JNU) for a preview of the much-anticipated film, "Music School." Accompanied by director Papa Rao Biyyala, Dr. Sagar captivated the audience with his presence and shared his thoughts on the experience of working with music maestro Ilayaraja. The event witnessed an overwhelming turnout as fans and music enthusiasts filled the auditorium to catch a glimpse of their beloved lyricist.
Dr. Sagar's presence at JNU not only highlighted his talent as a lyricist but also emphasized the significance of music and education. The coming together of these two entities represents the fusion of artistic expression and intellectual growth, fostering a deeper understanding and appreciation of the arts. He says, "The turnout and the energy of the crowd truly touched my heart. To witness people sitting on the stairs, eager to be a part of this experience, was an overwhelming moment for me."
Dr. Sagar continues, "This movie holds a special place in my heart as it addresses a serious topic, but in the most comic and authentic way possible. It beautifully portrays the power of music and how it can bring light to even the darkest of subjects. The fact that people connected with the film and embraced its unique approach is immensely gratifying"
The lyricist adds, "JNU audience affirmed my belief in the power of storytelling and the ability of music to unite and inspire. It reminded me once again why I chose this path as a lyricist. I am grateful to each person who attended the screening, sat on those stairs, and laughed and cried with us. Your support and presence mean the world to me, and I promise to continue bringing you heartfelt and meaningful music."
The presence of Dr. Sagar and Director Papa Rao Biyyala at JNU for the preview of "Music School" created an unforgettable evening for all attendees. With the overwhelming response from the crowd, it is evident that Dr. Sagar's lyrics continue to resonate deeply with his fans, further solidifying his place as a prominent figure in the world of Indian music.