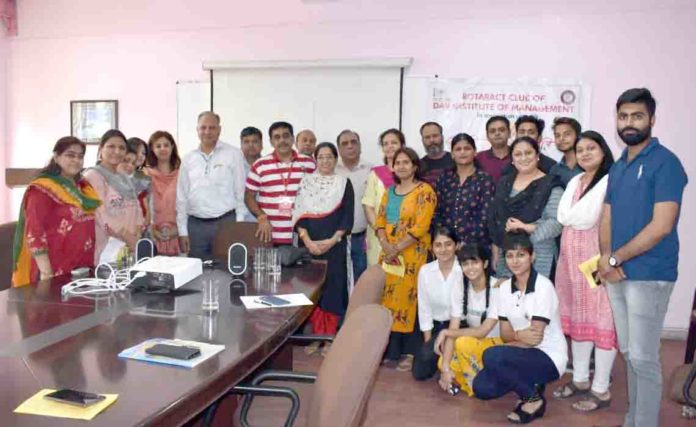 Faridabad News, 28 Sep 2019 : The Rotaract club of DAVIM and Centre for Environment, DAVIM in association with "Dadhechi Deh Daan Samiti" organized a sensitization Programme on "Be an Organ Donor- Light up Someone's Life " on 27th September,2019 for DAVIM Faculty members.
Due to lack of awareness, there are myths and fears in people's mind about organ donation. The aim of this programme was to spread awareness about the importance of organ donation and motivate normal human beings to pledge to donate organs after death.
The panelist Mr. Vikas Bhatia, Mr. Ashish Mangla, Narendra Bansal, Gulshan Bhatia, Rakesh Mathur speakers of the day from Dadhechi Deh Daan Samiti informed the faculty that anybody can be an organ donor irrespective of thier age, caste, religion, community etc. Organ Donation is donating on organ like heart, liver, kidney, intestines, lungs, and pancreas, after the donor dies, for the purpose of transplantation them into another person who is in need of an organ. The organ donor can play a big role in saving other's life. Anyone younger than age 18 need to have the agreement of a parent or guardian to be a donor.
The programme was appreciated and well received by staff of DAVIM and it ended with a pledge by DAVIM faculty and staff to donate organs for the benefit of humanity.
What I will pay to society. What can I give. I can decide- "When the soul will go" The body of no use to me, soul has left.
खोना, ही खोना
एक राह ऐसी जैसी मौत के दर्द को सकून में बदल सकती है।
में जी रहा हूं दूसरों के शरीर में ना रहने के बाद जीवित रहना का एहसास।