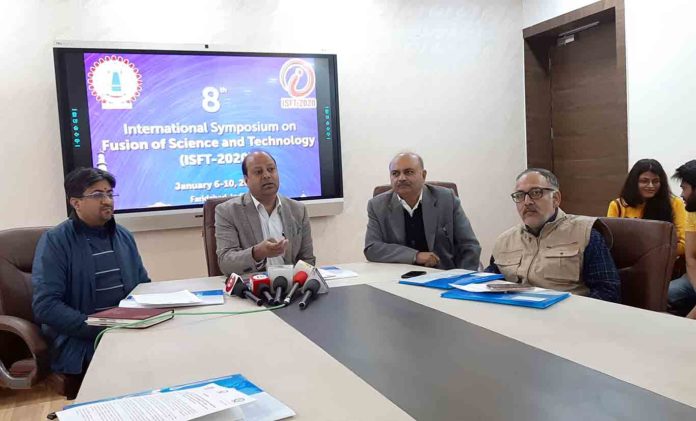 Faridabad News, 5 January 2020 : J.C. Bose University of Science and Technology, YMCA, Faridabad, in association with Society for Fusion of Science and Technology (SFST) and in partnership with of Delhi Technological University, NIT Kurukshetra, South Florida, University of North Texas, Institution of Mechanical Engineers (IMechE) and other premier institutions, is organizing 8th International Symposium on Fusion of Science and Technology (ISFT-2020) from January 6 to 10, 2020. As many as 400 delegates from India and abroad are expected to participate in this International Conference.
This was informed by the Vice Chancellor Prof. Dinesh Kumar in a press conference, here today. Registrar Dr. S.K. Garg Kumar, TEQIP Director and Dean (Academics) Dr. Vikram Singh, all Dean, Chairpersons and other senior officials of the University were also present on this occasion.
Addressing the media-persons, Vice Chancellor Prof. Dinesh Kumar said that this is the first time when the University would organize an International Conference at magnanimous level. The Conference is sponsored under Technical Education Quality Improvement Programme (TEQIP)-III.
Vice Chancellor Prof. Dinesh Kumar said that the formal inauguration of the ISFT-2020 will be held on January 7, 2020 which will be followed by the plenary and technical sessions. Former Chairman of University Grants Commission, Dr. Ved Prakash will be the chief guest in the inaugural session while Dr. M. P. Poonia, Vice Chairman, AITCE, Dr. Rakesh Sehgal, Director, NIT, Hamirpur, and YMCA alumnus Mr. Kanwal Jeet Jawa, MD and CEO, Daikin India will be the guest of honour in the inauguration function.
Vice Chancellor said that the International Symposium on Fusion of Science and Technology (ISFT) would provide a forum to the best talents in the academia and research institutions, industry experts, management professionals, engineers and executives to collaborate and address the current challenges to promote the new horizon of science, engineering and technology for a sustainable future. The conference would also promote synergetic partnership between academia and industry and would showcase the growth of cutting-edge technology developed in recent past.' he added.
During the conference, there will be 11 technical sessions wherein more than 200 papers will be presented authored by nearly 400 researchers, coming from about 15 different countries including India, USA, South Korea, South Africa, France, Thailand, Italy, Germany, Iran, Nigeria, Saudi Arabia and Myanmar.
The technical sessions will be conducted on the conference theme mainly on the topics of Advances in Energy and Thermal Systems, Computer Science and Engineering, Science and Technology, Mechanical Engineering – Design and Analysis, Civil and Environmental Engineering, Material Science, Production and Industrial Engineering, Electrical and Electronics Engineering and New Frontiers in Engineering, Science and Technology. Similarly, about 156 oral presentations and 53 posters presentations will also be conducted during the conference.
There will be four Plenary Sessions addressed by 17 invited speakers from different countries. The invited speakers will present their views and research work on the conference theme. This session will be chaired the Vice Chancellors of different Universities of Haryana including Mr. Raj Nehru, Vice Chancellor of Shri Vishwakarma Skill University, Palwal, Dr. S.K. Gakhar, Vice Chancellor of Indira Gandhi University, Rewari, Dr. Tankeshwar Kumar, Vice Chancellor of Guru Jambheshwar University of Science and Technology, Hisar and Dr. Markanday Ahuja, Vice Chancellor of Gurugram University.
As per the schedule, the registration of the participants will be made in the evening of day 1 and in morning of day 2. The Technical and Plenary sessions will be conducted on day 2 and day 3 of the conference. A historical tour to Agra and Delhi has been planned on day 4 and 5 for the delegates. A visit to Local and Delhi based Industrial Units and cultural evening has also been planned during the conference. Apart from this, the delegates would also visit University facilities and laboratories and participate in the round table discussion on Innovations and Start-ups in Engineering, Science and Technology.
For the convenience of the participants, a mobile App has been developed by the University to give Live Updates of the Conference. The information of conference has also been provided on the University website www.isft.org.in.