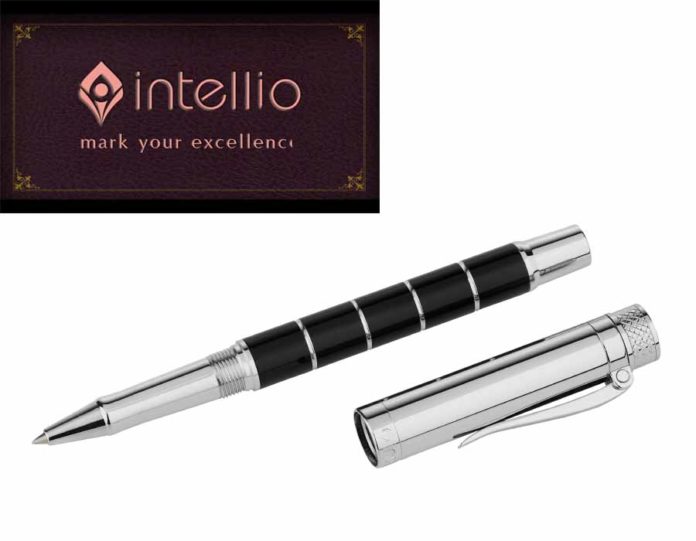 New Delhi News, 11 Oct 2019 : Intellio, a German brand, is launching its new limited edition writing instrument; 'FDR'. The pen is a combination of refinement and practicality. The eponymous pen is an homage to the man who led the United States and established it on the world stage and laid the foundation of new-age governance, 'Franklin Delano Roosevelt'.This writing instrument is a symbol of persistence, perseverance, and commitment. The collection is exclusively available on their website www.intelliopens.com, starting at INR 2800.
Intellio's FDR collection offers an authentic 'Made in Germany' experience using the most advanced inks alongside perfected ergonomics. Guilloche, a French heritage technique is showcased above the clip of the pen, adding an aesthetic appeal that shines from a distance. The collection also features a unique metal spring-loaded clip that effortlessly glides through your clothing. Intellio's FDR comes in one shade, but can be ordered with different colored refills.
Each ring present as a part of the writing instrument's physical design is separately plated and then assembled by hand alongside every other part of the pen. Undeterred by expectations and personal adversity, the pen celebrates FDR's excellence and contribution to the world. The Collection comes with an unquestionable guarantee of 3 years warranty in case of mechanical failure due to faulty materials or craftsmanship.
'FDR' represents perpetual excellence, creating a writing instrument that would embody and represent that excellence was a challenge the designers and craftsmen took head-on and we are thrilled to present it. -said, Naman Gupta, Marketing Head (Asia), Intellio Writing Instruments.
About Intellio
Intellio's Writing instruments transcend material value and get a soul from the owner's quest of excellence to become a medium of expression of their thoughts, feelings & aspirations. Days and months go into creating a pen that would serve that purpose. Their team of designers & craftsmen traverse the journey from ideation of the series to the individual details of parts, from the raw materials to the writing experience. This is made possible by the commitment of these individuals, driven by a deep passion for writing instruments and dedication to learning and improving with every collection they help make.