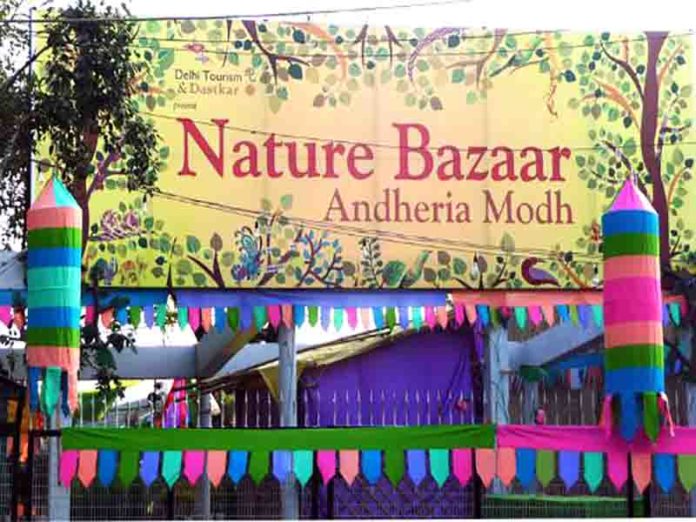 New Delhi News, 08 Nov 2019 : Dastkar prepares for its 4th and biggest event of this season in Delhi – Nature 2019 between 12th November to 24th November '19. Every year, Nature marks an event dedicated solely to craftspeople and traditional Indian handicrafts, making it the biggest event of the year by Dastkar.
Thousands of art and craft enthusiasts are spotted at the venue every year interacting with craftspeople and digging deeper into their appreciation for the crafts of India. Nature displays a collection of crafts based on inspiration stemming from Mother Nature, and this year the binding theme for all craftspeople is Fish, Water and its subsequent forms. Visitors can expect various development of handicrafts based around the mentioned theme, including – Gond Painting, Pattachitra and Kalighat Paintings, textile crafts like Applique work, ajrakh, handwoven garments and tribal weaves, and many other such adaptations through craft as a medium of expression.
"NATURE 2019 is our annual celebration of life and nature. A confluence of tradition, indigenous technologies and craft. At its core is the Dastkar family of crafts people – over a 100 different skills and traditions- using colours, motifs ,and materials that are made from or inspired by nature. NATURE is also a forum for environmental, social and cultural concerns, bringing together products, and ideas as well as people – the culmination of many themes that knit us together.
Every year, we chose a theme as inspiration – tree of life, the elephant, the lotus, the tiger….. This year we celebrate the fish, with displays s showing different crafted interpretations of fish, with the Fish God, Matsya at their centre. In myths all over the world, the fish symbolizes fertility, feelings, creativity, rebirth, good luck, transformation, abundance, serenity, intelligence, happiness, strength, and endurance. Connecting us with the water element, it represents the deeper awareness of the unconsciousness.
At this moment in time, fish remind us: What is a fish without a river, what is a bird without a tree to nest in? What are we doing to ensure their habitat survives? We have even managed to make our own environment unliveable."
Laila Tyabji, Chairperson, Dastkar
Honoring the given theme, Dastkar is also showcasing a variety of crafts through its display, including a 9-foot structure designed by Laila Tyabji and developed using mud and straws by Anando Malakar whose creativity is housed by the roadsides in Delhi NCR. The showstopper sculpture is designed around Matsya, the fish avatar of Vishnu, and will be supported by the beautiful voice of Mamuni Chitrakar, an award winning Patua painter, through various songs based on Fish. Visitors can also find structures made using gourd, Leather puppetry and palm leaves.
Some crafts and participants to look forward to:
Abhyudaya, a Delhi based NGO – A not-for-profit organisation that aims towards "Empowering the Powerless". More than 20,000 people who came as refugees during the partition of India and Pakistan in 1947 officially settled in 1976 in village Bhagirath Nagar in Bhatti Mines, a huge complex of quarries that for 25 years (1965–90) yielded red sand, silica and stone for Delhi's construction industry. Due to its shutting down in 1991, many lives of the residents were affected economically as well as socially. However, due to the efforts of Abhyudaya, these residents were able to spot a new life. Most women of the Abhyudya family are Pakistani Immigrants, and know to the depth the craft of Sindhi Embroidery. This year, they are bringing a range of hand embroidered garments for the visitors of Nature 2019, and are showcasing their skill of Sindhi embroidery that earned them their living.
Kalighat Painting from West Bengal – Kalighat Paintings are the pride of Patua singers from West Bengal and Orissa. They are scroll paintings carried out on various mediums, and in today's day, on garments, which are narratives of folk tales and events of everyday life. Mamuni and Sameer Chitrakar are the pioneers in the craft, and have made their way internationally as well. As told, they have recited tales with regard to Nirbhaya Rape Case, 9/11, Female infanticide, and various other socially driven themes that create a wide spread awareness amongst the local communities. To Nature 2019, they bring the significance of the Fish from the banks of Kalighat to the Dastkar venue. Along with their beautiful painting, they are also bringing various songs based on the theme, and will be performing folk songs of the same during the days of the event.
Suf Embroidery from Gujarat – This year's Nature welcomes with a warm heart Leelaben Prabhubhai Empa, a husband and wife duo that works with the embroidery technique of Suf from Gujarat, and will be exhibiting with Dastkar for the first time. Their expertise in the craft adorns a vast collection ranging from Sarees, stoles, kurta pieces to various other contemporary products like mobile covers. For Nature 2019, their patterns have been developed around the theme of Nature, incorporating motifs of trees, flora and fauna, aquatic life, and many other derivatives of Nature.
In addition to the wide variety of crafts visitors can also enjoy craft workshops and demonstrations, cultural performances and delicious cuisine. Workshops will be held throughout the weekend of the bazaar – 16th-17th November will be Lacquer Demonstration on Wood from Gujarat; 22nd November will host a workshop on Sabai Grass Weaving and the same craft will be demonstrated for visitors eot witness on 23rd-24th November '19.
1. Lacquer on Wood Craft – Lac is a naturally occuring material obtained from a crimson insect kerria lacca, locally known as Lac Insect. It's resinous secretion is used to adorn carefully carved pieces of wood, and in its historical significance, was used to give the newly wed their first round of household items like charkha or rolling pins, spice storage pots, churners, and much more. Commonly, this lacquered craft is found in the celebration of Navratas through Dandiya sticks for Garba. The beauty of the craft, as much as it lies in its completion, is also observed in its process – a joyous interplay of mixing many colors that creates a kaleidoscopic design. The makers of the craft are a local semi-nomadic tribal community, The Vadhas. The Vadhas moved throughout Kachchh through villages like Nirona and Jura while collecting natural stones and colors from forests, creating lacquer goods, and bartering them with the Maldhari community, who they had close ties with. In the past, Gujarati royalty have also been noticed gifting Lacquered Wood items to many people of importance.
At the Nature 2019, we welcome the craft group Vada Vakya Meran a local community from Gujarat, one of the remaining families that practice the craft.
2. Sabai Grass Weaving – With Plastic packaging monopolising the industry, many have forgotten the ecological solutions India prospered with. To recall these ecological methods of storage, packaging and various other chemically manufactured solutions, we call on an eminent association of craftspeople RAWHAA, an NGO focused towards reviving the craft of Sabai Grass Weaving. Sabai Grass is a natural fibre which is vastly found in regions of Orissa and West Bengal. The grass is said to have properties which make it a stronger, sturdier and a long lasting material as opposed to many chemically manufactured materials. At Nature 2019, as we reflect on our ecological practices, we aim at spreading a wide-spread awareness about the material used, and the various ways and techniques through which it can replace synthetic materials.