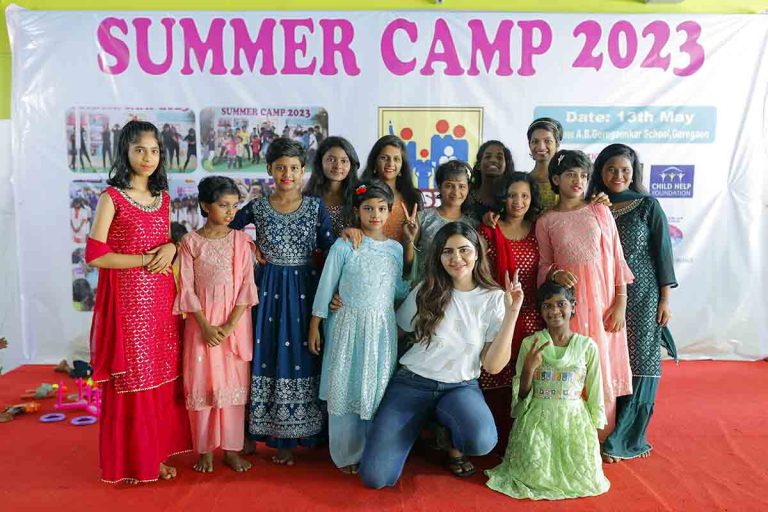 Mumbai : In a heartwarming gesture that touched the lives of many, popular actress Deepti Sadhwani recently attended a one-day summer camp organized for 250 kids with special needs . The event, aimed at spreading joy and providing a memorable experience for these deserving children, was a resounding success, thanks to the gracious presence and efforts of the talented actress.
Deepti Sadhwani, known for her exceptional acting skills and philanthropic endeavors, took time out of her busy schedule to participate in this meaningful event. The camp, organized by a local non-profit organization, aimed to create a fun-filled day for children who may not have the same opportunities as others. It was designed to offer them a chance to experience happiness, engage in activities, and make lasting memories.
The day began with an atmosphere brimming with excitement as the children eagerly awaited Deepti Sadhwani's arrival. As the actress stepped onto the campgrounds, her radiant smile and warm presence instantly lit up the faces of the children, spreading a sense of joy and anticipation. The kids, in awe of their beloved actress, couldn't contain their excitement, cheering and clapping as she interacted with them.
The summer camp was a hub of various activities, each carefully curated to entertain, educate, and empower the children. Deepti Sadhwani actively participated in these activities, making the experience all the more memorable for the youngsters. From art workshops to sports activities, the children had the opportunity to explore their creative talents and engage in healthy competition.
If you haven't already, checkout Deepti's reel:
Deepti enthusiastically joined in, showcasing her artistic side and cheering on the children in their sporting endeavors.