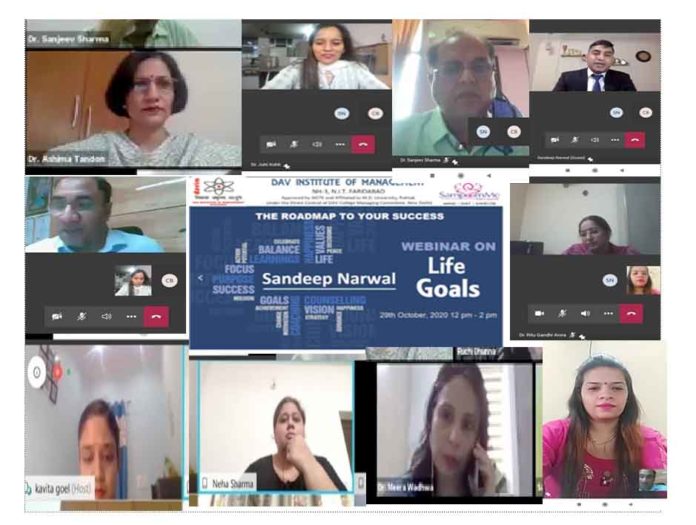 Faridabad News, 31 Oct 2020 : The BBA (Computer Aided Management) Department of DAV Institute of Management, NH 3, NIT, Faridabad organized a webinar on the topic "LIFE GOALS – THE ROADMAP TO YOUR SUCCESS" in association with "SAMPOORNA ME" on Thursday 29th October, 2020 from 12.00 PM to 2.00 PM.
DAV Institute of Management, Faridabad has always taken initiatives to connect with its learners in innovative ways and touch their lives by discussing issues of real importance to them. The session started with welcome address by Dr. Sanjeev Sharma, Principal Director, DAV Institute of Management. He said that goal setting is the first step in attaining success in life and it requires careful deliberations on the same. He also appreciated the efforts of the BBA CAM Department for organizing such a lively and enriching session on a topic which is very relevant to the youth of the nation.
The speaker of the day was Mr. Sandeep Narwal, who is a famous motivational speaker who has trained and transformed over 70 thousand people across India and has over 53.3 thousand you tube subscribers. The session was very well received by the audience as it was interactive and very lively. The session was concluded by CA Sunil Gupta, founder of "Sampoona Me" which is an organisation dedicatedly working to deliver health at the doorsteps. He offered free membership of the virtual health club being conducted by them in times of COVID-19 to the staff members and the students of DAV Institute of Management, Faridabad.
The session ended with a formal vote of thanks proposed by Dr. (CS) Juhi Kohli, HOD, BBA CAM Department. She thanked Dr. Sanjeev Sharma, Principal Director, DAVIM and Dr. Ritu Gandhi Arora, Vice Principal DAVIM, for motivating the team to come up with such ideas. Dr. Juhi Kohli also thanked her colleagues in the department, Ms. Neha Sharma, Dr. Kavita Goel and CA Bhawna Kharbanda for quick execution and unwavering support, Dr. Ashima Tandon and Mr. Harish Rawat for technical support and Dr. Hema Gulati for media support.