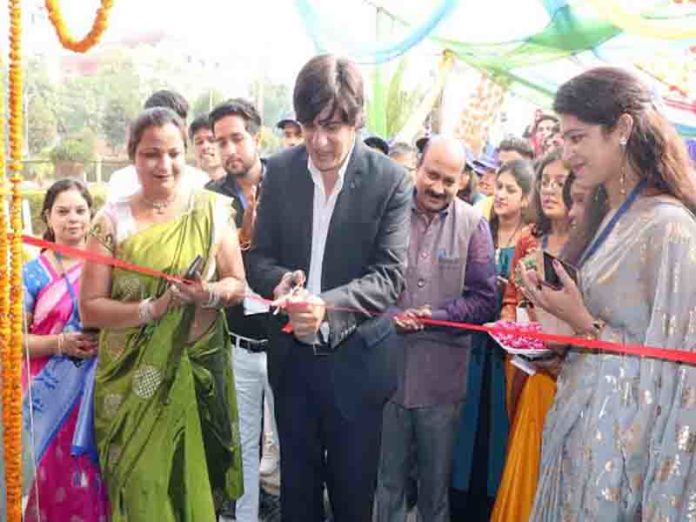 Faridabad News, 08 Nov 2019 : The inauguration of the most awaited cultural festival Zest 2K19 "Jazbaa" been scheduled at the Lingaya's Vidyapeeth campus with great enthusiasm and passion among the students. The ZEST JAZBAA has been inaugurated by film actor Mr. Rahul Roy.
The inauguration programme was attended by the Hon'ble Chancellor ,Lingaya's Vidyapeeth, Dr. Picheshwar Gadde, Secretary, LLDIMS ,Ms. Sunita Gadde, Chief guest, Mr. Rahul Roy, Pro Chancellor, Prof.(Dr) R. K Chauhan, Prof. K .K Garg ,Director, LLDIMS, Dr. Sangeeta Sinha, Principal LPS, Deans, Head of Department, faculty and staff members.
The inauguration was followed by lamp lighting ceremony and saraswati vandana performed by the students.
Teasers of the Zest 2019, the making of the Zest 2k19, was watched in the inauguration presenting the student's tireless efforts to make the annual cultural festival Zest a great success. There were 21 committees who worked with great zeal to leave no stone unturned for the celebration to be great applaud and enthral.
Welcome address was presented by the Prof. R K Chauhan. He welcomed the chief guest with his warm and compassionate voice and connected him to students of Vidyapeeth.
Charismatic actor, Mr. Rahul Roy encouraged the students to take a lot of friendship account with them from their college. He further added to uplift the students, stating that failing is inevitable in life ,the spirit with courageously overcoming the failures is the best attitude. He shared that student's college years are the best grooming years . Jazbaa is a fantastic event and must be imbued in the DNA of the people of India and he wished all the students to carry on with josh and energy .he was incredibly humble to all his fans and students of Vidyapeeth.
The invigorating dance and musical performances of student of Lingaya's Vidyapeeth were exhibited in the inauguration and brought forward their passionate vigour to celebrate the ZEST from their hearts and soul.
Vote of thanks was presented by Dr. Shweta Bajaj, Convenor Zest 2019 to extend gratitude on behalf of the management of Lingaya's group to the chief guest, the dignatories ,the committee members,press and media for their extensive support in making Jazbaa Zest 2K19.