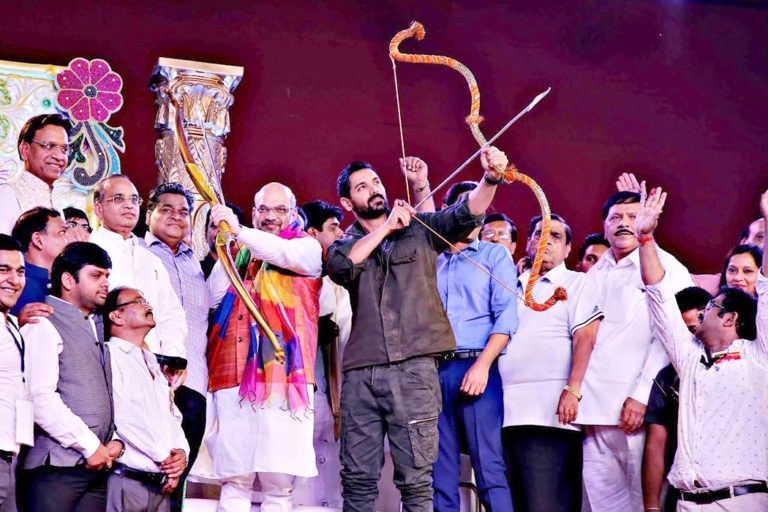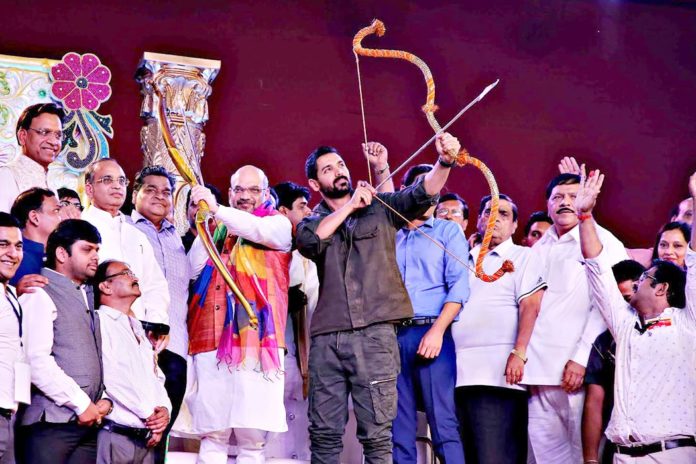 New Delhi News : Yes, you heard it right. President of the Bharatiya Janata Party Amit Shah and actor John Abraham along with Arjun N. Kapoor the producer of upcoming movie 'Parmanu – The Story Of Pokhran' was seen as chief guests in the Luvkush Ramleela at the occasion of Dusheera at prestigious Lal Quila Maidan. . The incidents that took place at the tenth day were Shiv pooja by Ravan, Ravan and Mandodri conversation, Shiv pooja by Shri Raam, Ram vs Ravan on the battleground, a lesson by Ravan to Laxman, and then the most awaited happening were Ravan Vadh by John Abraham followed by firing the statues.
The characters were played by many famous personalities.  Ram was played by Vishal Karwal, Laxman was played by Arun Mandola. Anupam Shyam played Vibhishan. Hanuman was played by Devrath Choudhary, Ravan by Mukesh Rishi and Mandodri was played by Prerna Trivedi.
John Abraham, who is working for his upcoming film 'Parmanu – The Story Of Pokhran', was seen doing the ceremony of Raavan Vadh on world famous Luvkush Ramleela. The ritual that earlier has been performed by Bollywood biggies like Akshay Kumar and Ajay Devgn was now performed by John. This biggest Ramleela is spreading its charm and magic greatly and leaving everyone spellbound and mesmerized.
The aura that the LuvKush Ramleela carry is what made it worth watching. Raavan Vadh that carries the essence of this festival was the most awaited moment of this year's Ramleela too. The 40-year-old LuvKush Ramleela will be showcased till 1st October 2017.