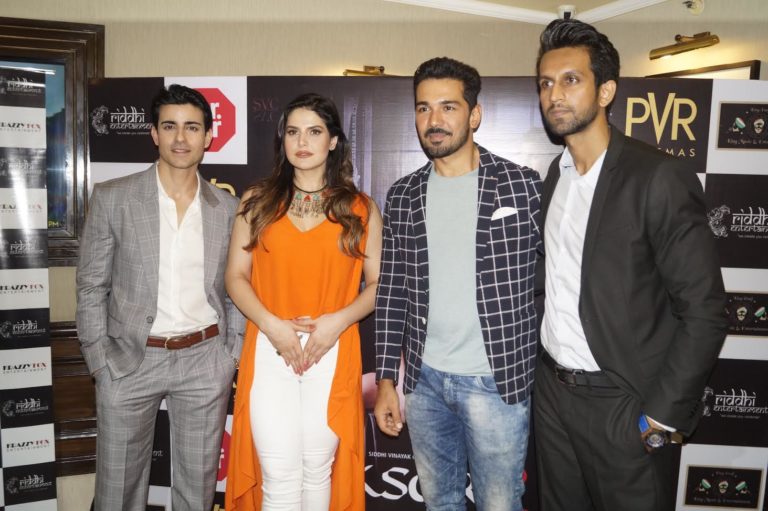 New Delhi News : The upcoming sequel to 2006 thriller flick Aksar, is back in action with Aksar 2. As the main leading beauty of the film Zarine Khan along with the cast were witnessed in Delhi for the promotions. Apart from her, the leading males of the movie Gautam Rode, Abhinav Shukla, Mohit Madaan, Ananth Narayan Mahadevan (Director), Varun Bajaj (Producer) was also present in the press conference held in PVR Plaza CP.
While an interaction with media, Zarine Khan shared about the different scenario between last 2006 Aksar and upcoming Aksar 2, she stated, "Aksar 2 is not a sequel, yes it's a part of the same franchise but it's a completely a different story." About the songs of the movie, Zarine said, "The songs given by Mithoon are really heart touching and my one of the most favorite song from this movie is Tanhaiyaan."
Whereas, Abhinav Shukla told about his character. He said, "In real life, I think about things a lot, but my character Ricky in this movie don't think much, he is impulsive so I tried and somehow managed to bring reality in my character." About the movie, he said, "I am glad to be a part of such a thriller franchise of Aksar. I had a great experience working with Zarine and the other cast of the movie."
On the other hand Gautam also seemed excited while portraying his views about the movie and his character, he told media, "My character has different shared in this movie, which I never played before, he is doing positives he shares negative shades as well, he is opportunist, diplomatic at the same time." He added, "This film is for all kind of audience, anybody who enjoys drama suspense film will definitely like this movie." One of the other lead Mohit Madaan also treated with graciously and told about his character as well, he stated, "My character name is Bachchan Singh. He plays an adviser in the movie, he somehow gets juggled in his life for money. And how he solves this problem in the film you will get to know this coming Friday."
Well, as for the film, Aksar 2 is presented by Siddhivinayak Creations, produced by Narendra Bajaj & Chirag Bajaj and directed by Ananth Mahadevan, the music of Aksar 2 is composed by Mithoon. The film is slated to release on 17 November 2017.