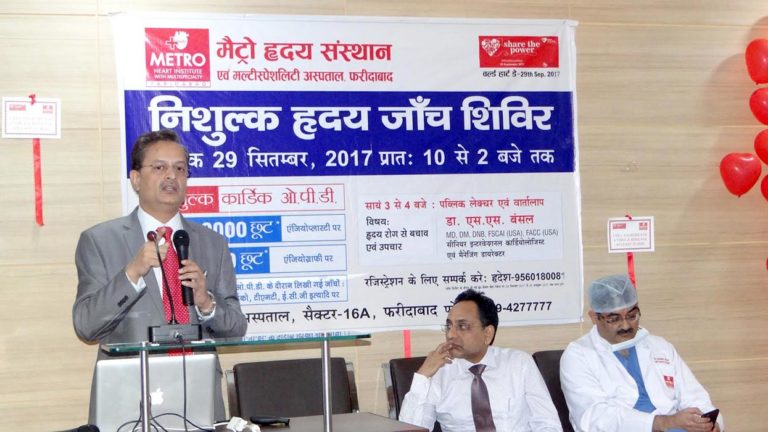 Faridabad News : World Heart day falls on 29th September every year. It's a global campaign where people from all communities across the global participate in various activates to take change of their heart health.
The purpose is to reduce number of deaths due to cardio-vascular diseases, a day to spread awareness among common public to motivate healthy life.
According to WHO nearly 30% of all deaths around the world are due to cardio-vascular accidents.
Metro hospital, Faridabad has taken initiative by organizing series of events like free heart checkup camp in which 350 number of patients consulted sr. heart specialists of the hospital, special discounts on heart related investigations & procedures & a public health awareness session by Dr. S.S Bansal, MD & Sr. interventional cardiologist in the hospital premises on 29th Sep 2017.
Dr. Bansal to talk on prevention of heart diseases said that minor lifestyle changes can substantially reduce the risk of heart ailments. Periodic heart health checks are very important in determining the current heart status and it also help in diagnosing various ailments at an early stage."
Hospital is also offering a month long discounts to encourage people to get preventive heart screenings starting from 29th September to 29th October 2017.
25% discount on already discounted health packages and OPD investigations like ECHO, TMT, ECG etc, Rs 5000/- off on Angiography and Rs 20,000/- off on Angioplasty.
He said that Heart attack can be prevented and also can be effectively treated if timely intervention under the guidance of qualified cardiologist is done. If goes undetected or untreated 33% cases of heart attack dies within 24 hours.
On this World Heart Day, let's make sure that we all take action to keep heart healthy of people we care about and make a lasting difference to our health and the world's health at large.