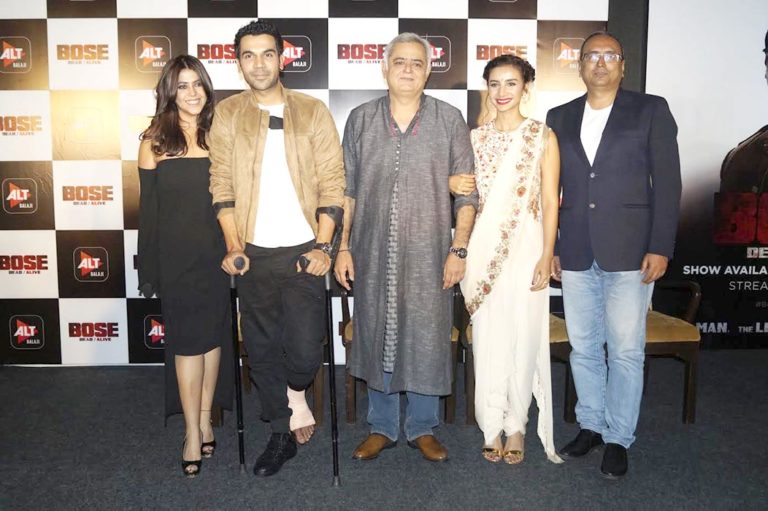 New Delhi News : Everyone somehow is aware of Ekta Kapoor's kind of work. Known as daily soap queen, Ekta left no bars to carry forward her success stares in Bollywood industry too. Well, after launching her web venture ALT Balaji, she kept on surprising people by the contents. And now this time her venture is hitting the web field with an upcoming impressive project "Bose: Dead or Alive", which stars none other than a talented man of Industry Rajkummar Rao, who will bring the character of Bose to life.
Well for the same, Ekta along with Rajkummar, actress Patralekha, who portrays the character of Nandini was witnessed in Delhi for the press conference held in The Hotel Taj, Diplomatic Enclave. Apart from them, Hansal Mehta who will be directing the Web series based on the life of freedom fighter and national figure Subhash Chandra Bose was also the leading part of the event.
While a one to one interaction with Media they shared their views and points about their upcoming web series. Ekta stated, "It was the concept which was running in my head since long and I wanted to make it. Rishu Nath is the writer who spends probably one year in research, I don't care what will be the result I am just proud to carry forward such content." She also added, "The kind of response I got while launching promo proves that our country is ready to see such a different content and I am hoping with this project we will give out India's first web stuff which matches the International standard, we have that talent in our country."
Whereas, Rajkummar said, "This web series is almost real, there is no extra stuff included in the content. I am really feeling proud to be a part of such a series, the character of freedom fighter Subhash Chandra Bose is very special for me."
The web-series Bose: Dead or Alive has been directed by Pulkit, while National Award winning director Hansal Mehta has taken the role of creative director.