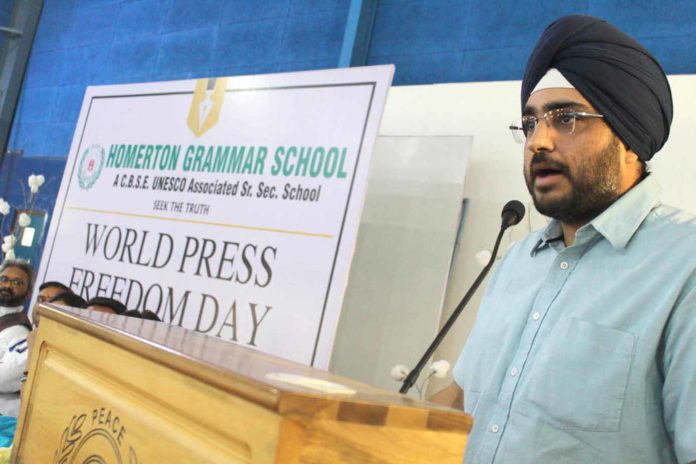 Faridabad News : World press freedom day has celebrated in the campus of Homerton Grammar School on 3 may, 2018. Journalists from different newspapers news channels and online portals have participated whole heartedly and explained the real freedom of media to our students . Theme addresses the role of the media in sustainable development, especially during elections – as a watchdog fostering transparency, accountability and the rule of law. The theme also aims to explore legislative gaps with regard to freedom of expression and information online, and the risks of regulating online speech.
A free press is essential for peace, justice and human rights for all. It is crucial to building transparent and democratic societies and keeping those in power accountable. It is vital for sustainable development.
Eminent speakers from the media industry of Faridabad & Noida joined the platform to address our students. Our panellists included speakers from across the press industry be it print media like Dainik Bhaskar, Times of India, Aaj Samaj, Hindustan, Amar Ujala, & Pioneer. Speakers from Television Industry also spoke to our students. Online media which are gaining power made their presence, speakers from Voice of Faridabad, Today Bhaskar, Discovery News & Alive news were present to grace the occasion. To give the talk show a different perspective we had college professor from DAV to educate students about the role of media.
Students enthusiastically took part in the question & answer session and questioned the media personalities regarding their view point on different issues.
Our Founder Director, Mr. Kuldip Singh, Our Managing director Mr. Rajtheep Singh & our Principal Mrs. Archna Dogra were also present amongst the panellist. They felicitated the speakers from Media fraternity.
Freedom of the press is one of those fundamentals rights that Indians consider part of their identity.