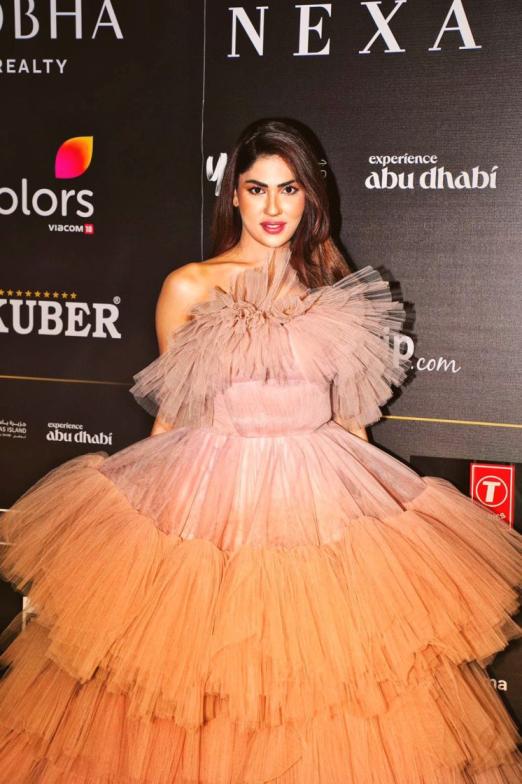 Mumbai : Actress Renu Kaushal made a stunning appearance at the prestigious IIFA 2023 event held in Abu Dhabi. The talented actress turned heads as she walked the red carpet in a beautiful peach-colored tulle gown. The gown perfectly complemented her elegant and graceful persona.
What made Renu's look even more remarkable was her choice of minimal accessories. She opted for a no accessory look, allowing her gown and natural beauty to take center stage. With subtle makeup and a bold lip, she effortlessly showcased her radiant features. Renu's confidence shone through, and her presence was hard to miss.
Having been a former Miss India worldwide, Renu has always been known for her poise and charm. At the IIFA 2023, she left no doubt about her star power. Her captivating aura and magnetic personality drew everyone's attention. People couldn't help but admire her grace and sophistication.
Renu Kaushal's choice of a minimalistic yet impactful look sets a new trend in the fashion industry. Her confidence and elegance serve as an inspiration to many aspiring artists and fashion enthusiasts. With her impeccable fashion sense and innate talent, Renu Kaushal continues to make a mark in the entertainment industry.
The IIFA 2023 event in Abu Dhabi was a memorable night for Renu Kaushal and her fans. Her grand entry, impeccable style, and mesmerizing presence made her the talk of the town. Renu's star power is undeniable, and she continues to shine brightly in the world of entertainment.
Renu Kaushal was previously seen in 'Mitran da naa chalda' opposite Gippy Garewal and 'Uchiyan ne gallan tere yaar diyan'.