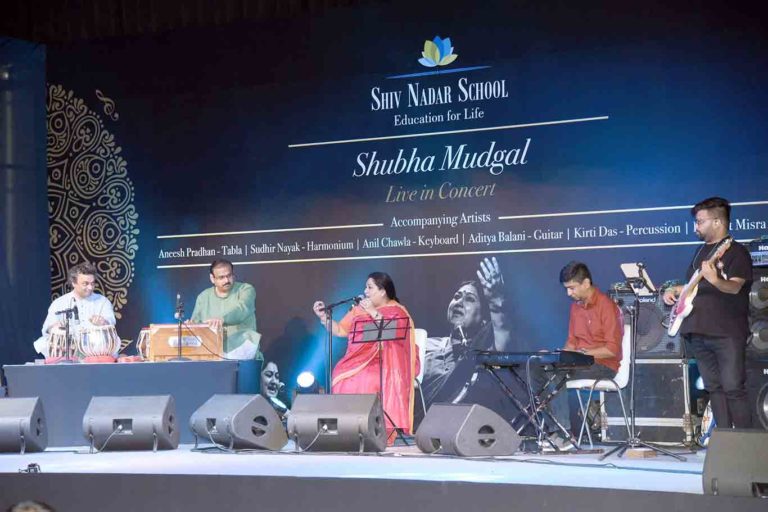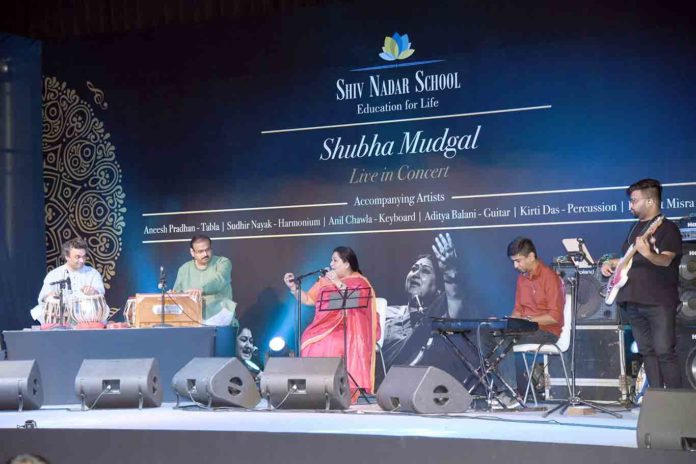 Faridabad News,19 Oct 2019 : Shiv Nadar, Founder & Chairman, HCL and Shiv Nadar Foundation, today inaugurated the North Block at the Shiv Nadar School Faridabad. The new learning space is built to enable the best learning environment for the students and is spread over 7.14 acres with a built–up space of 3.5 lakh sq. ft. Over and above the 60 classrooms and labs, the block also includes an Olympic size swimming pool, a squash court and a four-lane, 400 m synthetic athletic track, the first in the city.
To mark this occasion, the School also hosted a musical evening with acclaimed singer and melody queen – Padma Shri, Shubha Mudgal who mesmerized the audience with her soulful performance. Eminent artistes, who accompanied Shubha Mudgal on stage were Aneesh Pradhan (Tabla), Sudhir Nayak (Harmonium), Anil Chawla (Keyboard), Aditya Balani (Guitar), Kirti Das (Percussion) and Harshit Misra (Bass). Shubha Mudgal, a vocal proponent of integrating performing arts with mainstream school education, enthralled the audience to some popular pop-fusion numbers such as Tere Baanke Nainon, Seekho Na and Ab Ke Sawan, among others. The concert was attended by over 700 parents and teachers from the School.
Speaking at the occasion, Anju Wal, Principal, Shiv Nadar School, Faridabad said, "Shiv Nadar School Faridabad, spread over 13.8 acres, started in 2015 and has become an institution of choice for the city residents. Our focus has been to ensure that our students experience the best infrastructure and learning environment and the new Block is a step in the same direction. Also, a holistic education needs a blended and experiential learning program with equal emphasis on arts and sports. I am delighted that our students will benefit from our world-class sports facilities at the new block."
Shiv Nadar School believes in the philosophy of 'Education for Life". The school embraces diversity and promotes a safe, healthy and nurturing environment for students, where they feel valued and loved. In the pursuit of excellence, the school sets high standards of achievement for its pupils in academic, sporting, social and cultural activities.