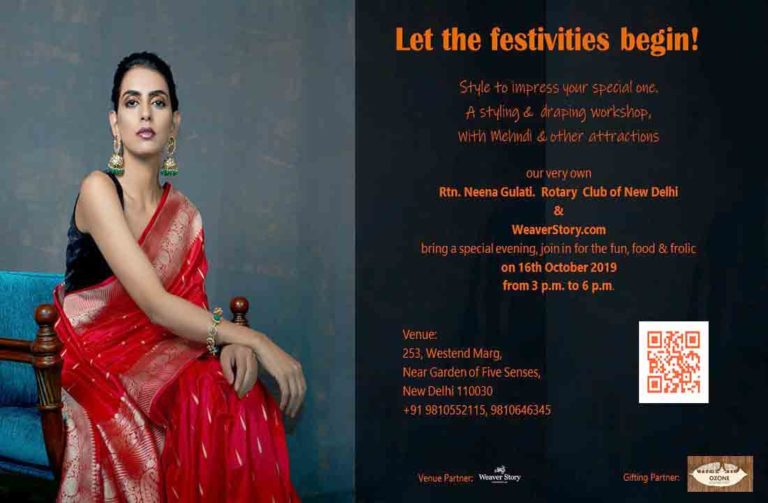 New Delhi News, 16 Oct 2019 : WeaverStory is conducting a Saree Styling and Draping workshop on 16th October 2019 at 253, Westend Marg, near the Garden of Five Senses, New Delhi. With the festive season in full swing, putting your best foot forward is a must; festivities definitely call for the beautiful and the only unstitched garment, the saree. The workshop aims at not just helping us learn how to drape and style our saree but also focus on the essence of the saree itself; it being a part of the Indian heritage and tradition.
Nishanth Malhotra and Swati from WeaverStory will be conducting a workshop on how to be festive ready and make this graceful traditional attire a part of our daily lives. The intention of the workshop is also to talk about the traditional weaves and patterns of India which are being revived with a contemporary twist to suit the new-age generation.
There will also be many other fun activities at the venue to help ladies gear up for Karwachauth which is the following day.
About WeaverStory:
WeaverStory.com is an attempt to bring the best-handcrafted products to you directly from the chosen craftsmen of India. WeaverStory.com began its Journey on National Handloom day on 8th August 2015 to promote and preserve the dying art of Indian handlooms and also remove the perception of handlooms being luxury products as promoted by large stores.
Website: Weaverstory.com