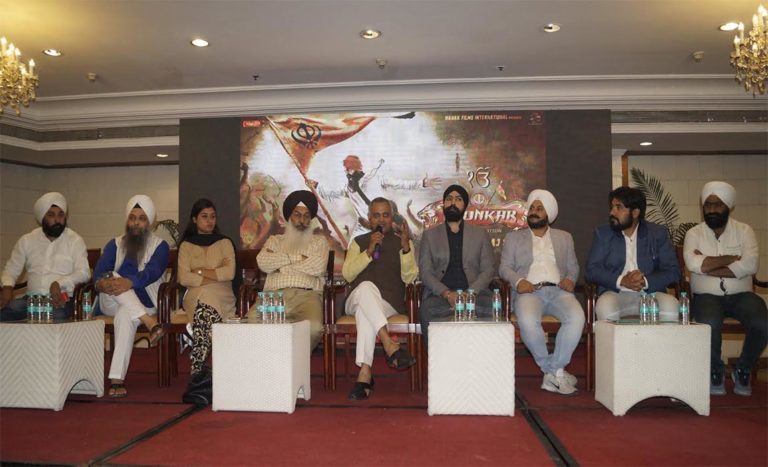 New Delhi News : The entire team of upcoming highly controversial film, which was showcased in America and Canada but banned in India by Censor Board & The Censor Board Tribunal, "Ik Onkar" leaving no bars highlight the fault of Government as well as Censor Board too. As the entire team along with several known political personalities were today present in the press conference held in The Hotel Royal Plaza, Delhi. Which includes politicians like Jarnail Singh (MLA Tilak Nagar & Vice Chairman of Punjabi Academy), Somnath Bharti (Ex Law Minister, Delhi), Alka Lamba (MLA Chandni Chawk), Gurmukh Singh (Counsellor Tilak Nagar), Raghav Chhadha (AAP Spokesperson), Direcctor of the movie Aviral Raj and Producer Talwinder Singh and NRI from Canada, Mandeep Singh Chhatwaal(Distributor) and many others.
The entire team came together and shared their issues regarding the movie and the negative result they faced by the Censor board and government to showcase the movie in India. While interacting with media they stated their views which show their similar point of view and disappointment. Somnath Bharti Ji stated, "It feels like Censor Board is also corrupted along with our Government. I would say the entire scenario is corrupted. Yes this move was shown in America and Canada but why not in India? We made this movie for the goodwill of Punjab and other religions as well, but as per Cesnor board this movie can give a negative impact and can be hazardous to society. But this is absolutely wrong, this movie reveals the problems of Punjab. Our Censor board is biased."
Whereas, Alka Lamba shared the similar points, she said, "Not only Punjab but the entire India is facing the issue of drug abuse, this is what the highlight of the movie, but our government is not allowing us to showcase the rights and wrongs of the society. We all are standing together for the movie and the corruption too." As per Somnath Ji, "Government is not giving positive impact to public. There is no institution left in India, which are burdened by the them, nothing is going right." The director and producer of the movie also seemed disappointed, Aviral Raj told meida, "Ik Onkar is a greta movie, which talks about the youngsters and farmers and the problem they faces in their daily lives, The concept came from Canada is Commendable."
Well, "Ik Onkar" The Revolution as a title itself portrays the message of Oneness in the society. It will show you evils like drug addiction, corruption, rape, killing and injustice prevailing in the society and will create awareness towards it. The film has been made under the banner of Nanak Films International which is directed by Aviral Raj Sharma and produced by Talwinder Singh.