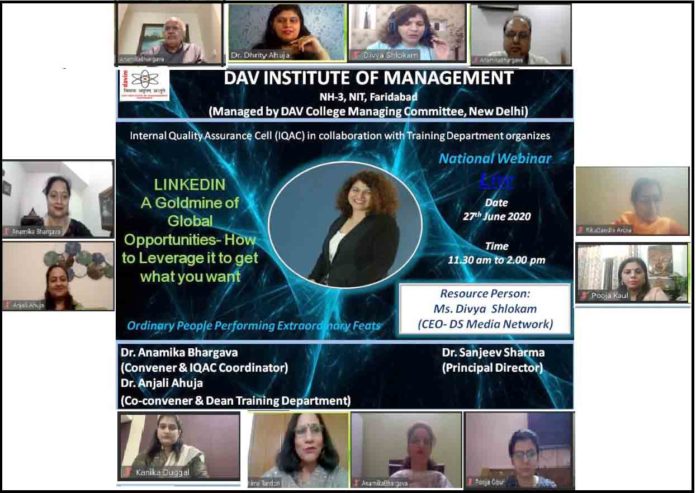 Faridabad News, 27 June 2020 : LinkedIn not only gives first professional impression but it also demonstrates credibility in your industry and highlights your achievements. It is the top online site for professional, social and career networking. Many people still underestimate the importance of LinkedIn in their job search and are sometimes reluctant to embrace social media. It can be an excellent platform for new Opportunities if used in the right way. Keeping all these things in view, the IQAC cell and Training department of DAV Institute of management, Faridabad organized a National Webinar on "LINKEDIN A Goldmine of Global Opportunities- How to Leverage it to get what you want" on 27th June, 2020, from 11.30 AM to 2.30 PM. The Chief Guest of the webinar was Shri Shiv Raman Gaur, IAS (R), Director Higher Education, DAVCMC and the webinar was live on Facebook with over 100 registrations received from across India.
The webinar commenced with the welcome of guest and participants by Dr. Anamika Bhargava, IQAC coordinator. The Principal Director, Dr. Sanjeev Sharma, a visionary leader addressed the audience and emphasised the importance of adapting to the new normal and giving oneself the exposure to new ways and means of achieving the targets of life. He shared how LINKEDIN has helped countless young men and women to find right place for them. The Chief Guest, Shri Shiv Raman Gaur Ji, congratulated DAVIM for organising such a wonderful Webinar on a very relevant topic and how during these challenging times of COVID-19 more and more people are using the LinkedIn platform to enhance their professional visibility.
Opening remarks were given by Dr. Ritu Gandhi Arora, Vice Principal & Registrar. The eminent speaker for the day was Ms. Divya Shlokam, CEO – DS Media Network. The award winning CEO of a Global Agency specialised in Leadership Branding, Content Marketing & Social Media with more than 20 years of experience having national & international exposure. She is the host of Value addition Global Shows and very popular among netizens.
She is on a mission to help upto 6 Million people globally on linkedin to start using it more productively. During the session she emphasised the importance of Linkedin and how this platform can help anyone with job change, career growth, lead generation, startup growth, business expansion & more. She highlighted the fact that whoever learns to use linkedin smartly & strategises their engagement, content, profiling, networking will surely benefit financially or reputation wise in the long term.
Queries on the FaceBook were presented by –Dr. Ashima Tandon & Ms. Kanika Duggal. Ms Divya Shlokam answered them one by one, explaining and resolving it in a very practical way, making the session very interactive and interesting. Closing remarks were given by Dr. Neelam Gulati, Dean Academics & Head of the Centre for Environment. The webinar ended with a formal vote of thanks proposed by Dr. Anjali Ahuja, Dean Training and Development cell. The Webinar received an overwhelming response with over 1000 views on the FaceBook.