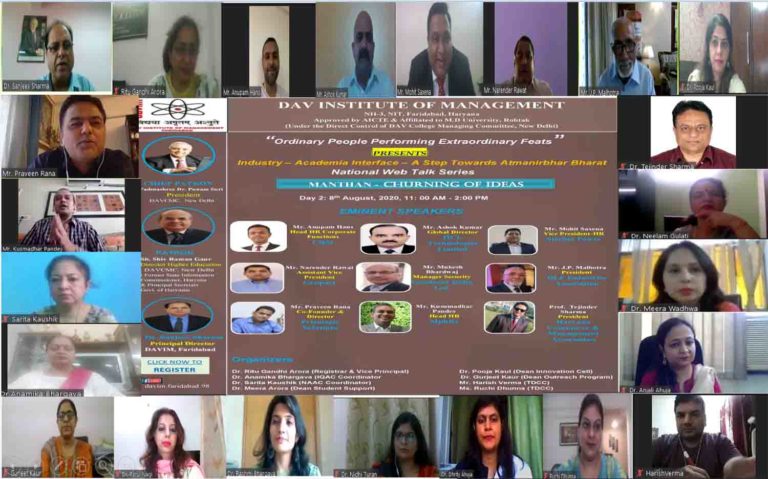 Faridabad News, 08 Aug 2020 : COVID – 19 is having dramatic consequences for millions of people's work-life balance and academics are no exception. These are transformative times and we do not say this glibly. We are living through a global pandemic of unprecedented scope, scale and impact. In these testing times DAV Institute of Management, Faridabad has organized a 3 days national web talk series Manthan – Churning of Ideas on "Industry – Academia Interface – A Step towards Atmanirbhar Bharat which discussed the impact of Covid -19 on industries and academia and the related impact on students' placements.
Day 2 of the webinar was commenced with deliberations given by Dr. Rashmi Bhargava (Dean Holistic Cell) followed by the welcome address by Dr. Sanjeev Sharma (Principal Director, DAVIM). The event was held under the patronship of Padamshree Dr. Punam Suri (President, DAVCMC New Delhi) and Sh. Shiv Raman Gaur (Director Higher Education, DAVCMC New Delhi). The notable organizers of the event were Dr. Ritu Gandhi Arora (Registrar & Vice Principal), Dr. Anamika Bhargava (IQAC Coordinator), Dr. Sarita Kaushik (NAAC Coordinator), Dr. Meera Arora (Dean Student Support), Dr. Pooja Kaul (Dean Innovation Cell), Dr. Gurjeet Kaur (Dean Outreach Program), Mr. Harish Verma (TDCC) and Ms. Ruchi Dhunna (TDCC)
The noteworthy resource persons for the day were Mr. Anupam Hans (Head HR Corporate Functions, Cipla), Mr. Ashok Kumar (Global Director, HCL Technologies Limited), Mr. Mohit Saxena (Vice President – HR, Sterlite Power), Mr. Narender Rawat (Assistant Vice President, Genpact), Mr. J.P Malhotra (President, DLF Industries Association), Mr. Praveen Rana (Co-founder & Director, Prismagic Solutions), Mr. Kusumandhar Pandey (Head HR, MphRx) and Prof. Tejinder Sharma (President, Haryana Commerce & Management Association).
The session was unquestionably thought provoking and a lot of brainstorming was done by eminent speakers. Mr. J.P Malhotra shared his views on Industry Perspective – Pre & Present Covid-19 where he talked about COVID mantras, rules and challenges in the new normal. Mr. Narender Rawat focused on the need to develop creative and innovative skills in order to run a long race in industry. Mr. Mohit Saxena shared his personal experiences related to industrial challenges at the times of Covid-19 through riveting stories. Mr. Ashok Kumar threw light on role of digitalization in the challenging times. Mr. Anupam Hans reflected on the significance of emotion well-being and Covid-19's positive side. Whereas, Mr. Praveen Rana showed his concern for skill upgradation and wide networking. Prof. Tejinder Sharma gave insights on industry academia gap. Mr. Kusumandhar Pandey talked about health, emotional well-being and positivity.
The query handling session was managed by Dr. Anjali Ahuja, Dr. Dhrity Gulati, Dr. Parul Nagi & Dr. Nidhi Turan and media coverage was done by Dr. Hema Gulati, Ms. Archana Mittal and Ms. Akansha Sharma. The session was concluded by Dr. Rashmi Bhargava with a formal vote of thanks.