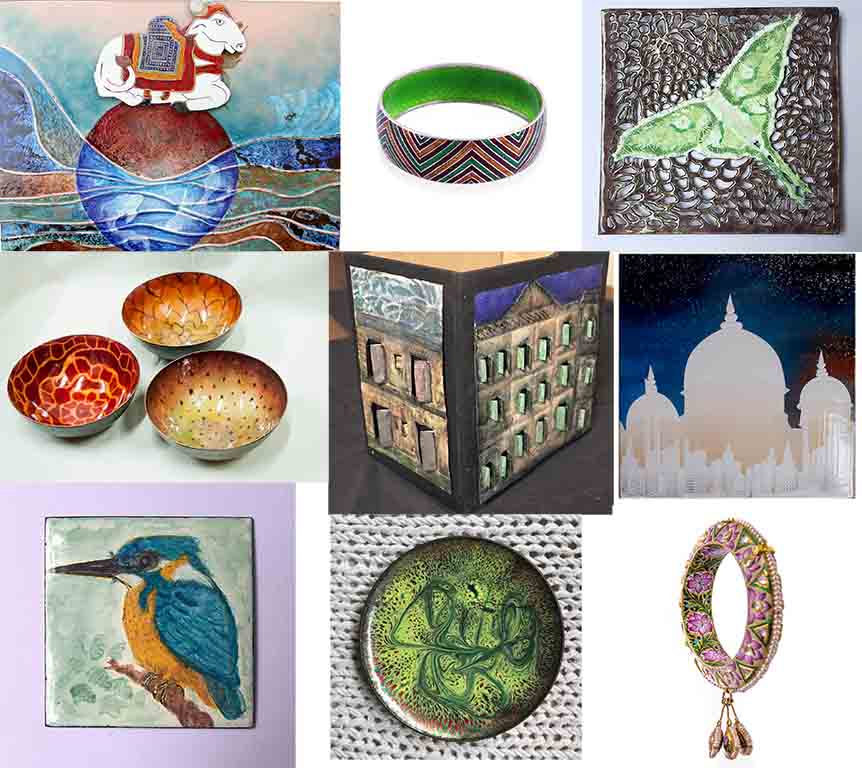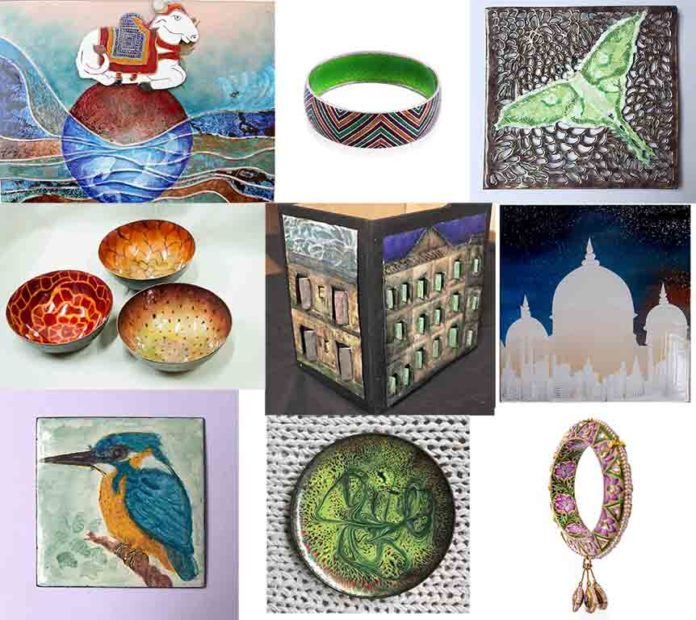 New Delhi News, 25 Sep 2019 : "ENAMEL REVISITED X" is an art exhibition of fired enamels by The Enamelist society starting from 26th September till 6th October 2019. Enamel society encompasses levels of expertise starting from enamel students to professional level enamellers. They are known for their highest standards of contemporary design and workmanship in all aspects of this unique and exciting medium.
The art of enameling on surfaces has been a show stopper down the centuries, due to its brilliant looks and glossy surfaces. The current exhibition, titled "ENAMEL REVISITED X" re-lives this erstwhile tradition in an entirely new avatar of collector's art via the artistry of contemporary enamel art makers. Fashioned by a collective of ten artists who have been dedicated enamellists for over a decade, these works reflect a combination of creativity, coupled with their unique technical practices, learned from their family heritage or experienced enamellists. This unique consortium has thus blurred the boundaries between art and tradition, to contour Indian sensibilities like no other.
An enamelist for the 55 years, Veenu Shah leads this unique coterie in her capacity as founder of the Enamelling Society of India. In her capacity, Veenu Shah has held exhibitions both nationally and internationally and prides in qualifying herself as a celebratory of the spontaneous and transient form, where the works that emerge are 'imperfect, intimate, irregular, unpretentious and above all, startlingly simple'.
In a more generational outlay are the works of artist Deepak Sankit a master craftsman of meenakari jewelry from the family of the late Deen Dayal Meenakari, where his late father Shri Raj Kumar Sanket had bagged the National Award of 2005. A National Merit Awardee (2003) himself, Deepak is the progenitor of this ancient art form, that has been with the family since 1880.
Carrying it to another level is his entrepreneur sister, Preeti Kala, a professional enamellist.skilled in the techniques of cloisonné which graces her creations with bejeweled splendor and plique-a-jour, where the metal surfaces evoke a rare translucence.
Hailing from Santiniketan, Kana Lomror reflects an innovative style that has provided the input for large scale works in 3D and 2D formats. His works are replete with innovative touches, experimental techniques, and delightful outputs, using vitreous enameling on copper surfaces.
In her pursuit of artistic searches, Avanti Mehta, cashed upon her travels through the country to stoke her artistry. She works in copper and painstakingly hand cuts her pieces with a fret saw, thereby making a visual latticework of flora and fauna.
An enamellist whose forte is repousse work, Seema Lalit, too, banks on her immediate surroundings as the anchor for her inspirations, where the natural world is highly sensitized for making a lasting impact on her viewers.
Among this coterie of trained designers, Kavita Dhankar holds the unique position of exploring the possibilities of vitreous enameling for jewelry making as also fine art. Juxtaposing the jeweler's art with professional artistry, her palette encompasses nature and cityscapes, which has found favor at international workshops in Italy, Russia, and Budapest.
In the work of artist-educator Ritu Sangal, enameling encompasses the traditions of Tanjore, oils, watercolor and more, as she has continues to push boundaries egged on by the thrill of the unpredictability of the end product, after firing. Her background in textile art amalgamates detailed compositions that depict current political and social turmoil worldwide.
Artis Smriti Singal relives her art interests as a two-pronged approach, being groomed since childhood into a love of the arts by her mother Ritu Sangal Thereafter, having refined the art-making process through formal education she now identifies her key strengths by patterning enameled surfaces that define cityscapes through her gaze.
For artist Triveni Mahajan, it was a thirst to learn new techniques, that egged her into experimenting with enameling, cementing it into a limitless passion, relentless dedication and vision. On the other hand, with Jyoti Singh, it was the drama of copper being fired, hammered, colored, cut and pierced that goaded her into creating landscapes, sacred spaces and pilgrimages, that are physically recognizable for her viewers as also soul searching opportunities for the inner being. She thus travels to exotic destinations to stoke her sensibilities and connects the dots between her art pursuits and her inner urges.