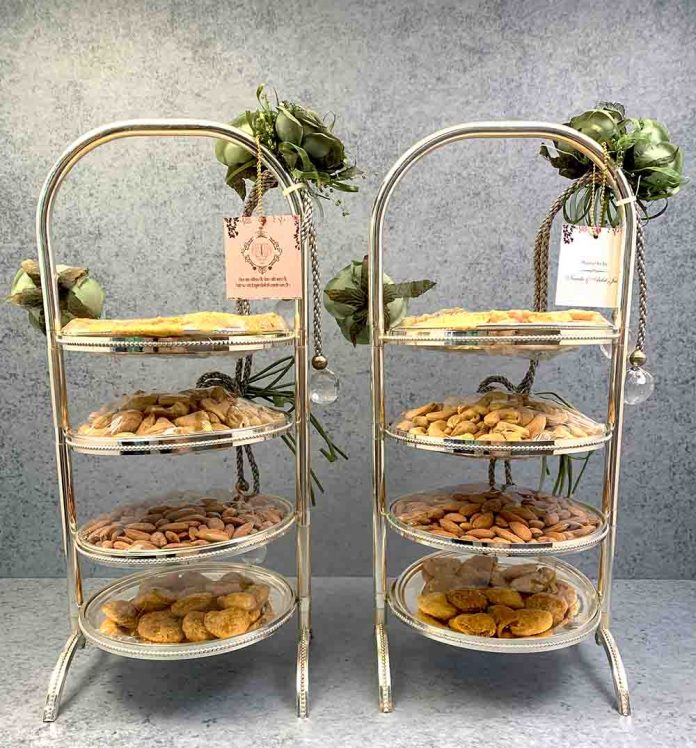 New Delhi News, 10 Aug 2021 : Teej is a generic name for a number of Hindu festivals that are celebrated by women in many states of India. Haryali Teej and Hartalika Teej welcome the monsoon season and are celebrated primarily by girls and women, with songs, dancing and prayer rituals. The monsoon festivals of Teej are primarily dedicated to Goddess Parvati and her union with Lord Shiva. In this festival women follow a ritual of not eating anything for the long life of their husband.
Celebrate the festival of Hariyali Teej with vibrant gifting options from Izhaar! This gorgeous 4 tier platter stand is silver coated & you can include items like ghewar, dry fruits, cake etc in it. Izhaar can customize this platter stand with delicious ghewars and edibles to make your gifting exquisite.
Izhaar works on resonating the gift ideas as per the occasion and this time we have gone up a notch while designing this way of expression.
Each creation by Ruchita Bansal at "Izhaar" is a handcrafted work of art, designed by her and brought to life by a team of artisans at her workshop in New Delhi. "Am proud to present Izhaar! We are all about celebrations of unbridled happiness, superlative achievements, joyous togetherness, and momentous occasions. Originality & Creativity is our core passion so that our clients can present a specially created expression of their feelings", says Ruchita Bansal.
Available at:
· Gurugram – 775, Udyog Vihar Phase V, Sector 19, Gurugram, Haryana-122016
· Mumbai – 187, First Floor, Zainab Villa, Turner Road, Bandra West, Mumbai-400050
· New Delhi – D 18, Basement, Defence Colony, New Delhi-110024
Website- http://izhaar.co.in/
FB Link- https://www.facebook.com/coredesigns/
Instagram Link- https://www.instagram.com/izhaar_coredesigns/
– https://www.instagram.com/izhaar_junior/