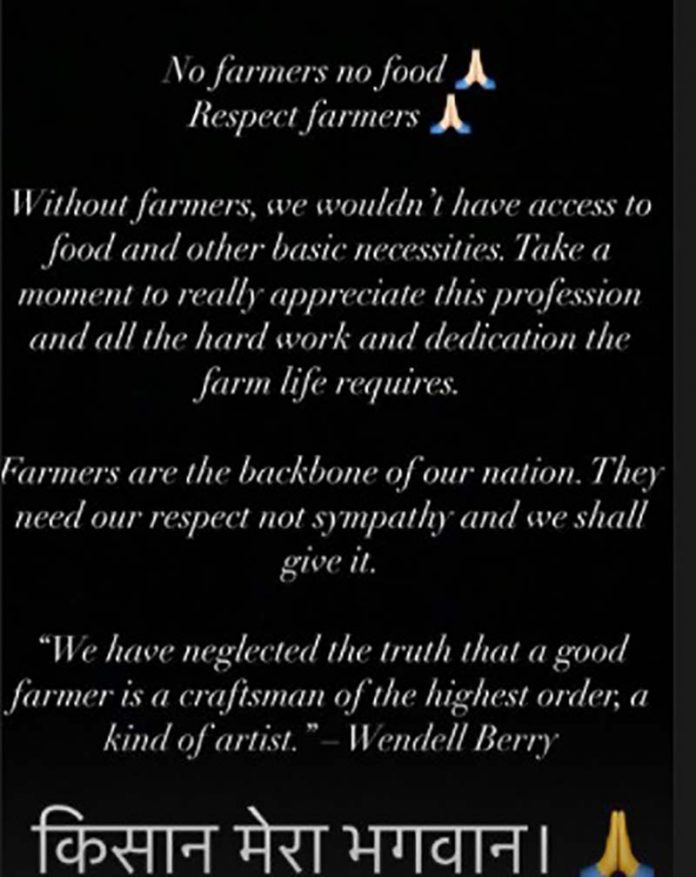 Mumbai : The Bollywood actress and supermodel, Urvashi Rautela, is not only known in the industry for her gorgeous looks but also for her philanthropic nature and being outspoken about what she believes in. She also runs "Urvashi Rautela Foundation" where Urvashi helps and supports the underprivileged. When the news about Scotland becoming the first country to make all  sanitary products free, Urvashi spoke again saying, "I am a strong advocate for women so naturally, I wish India follows suit." Showcasing how Urvashi is not afraid to speak her mind for the social good.
Currently, when the whole country's attention is diverted to the North where the farmers' protests have taken the country in a split view, Urvashi Rautela yet again too by her nature, sharing a piece of her mind in her Instagram story. Urvashi wrote,
https://www.instagram.com/stories/urvashirautela/2456919621874366507/
"No farmers no food
Respect farmers
Without farmers, we wouldn't have access to food and other basic necessities. Take a moment to really appreciate this profession and all the hard work and dedication the farm life requires.
Farmers are the backbone of our nation. They need our respect not Sympathy and we shall give it."
She later quoted Wendell Berry saying, "We have neglected the truth that a good farmer is a craftsman of the highest order, a kind of artist." And used a Hindi caption saying, "Kisaan Mera Bhagwaan" which translates to, the farmer is my god.
Not many members of the Bollywood fraternity have spoken up about the same, but we have seen Diljit Dosanjh, Richa Chaddha, and Swara Bhaskar too supporting the farmer protest. It is heart-warming to see these celebrities use their social media to spread awareness and get involved in country matters.