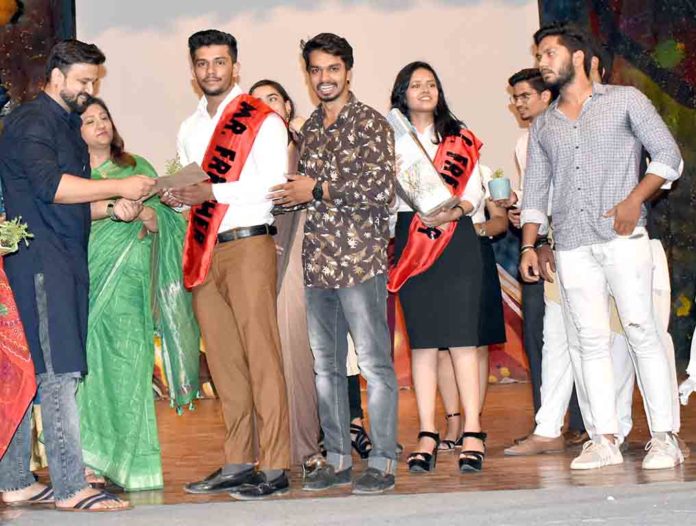 Faridabad News, 13 Sep 2019 : Lingayas Vidyapeeth hosted the Fresher's day for welcoming the newly admitted students of the Vidyapeeth. This day is dedicated to mark a celebration of arrival of the new students in the Lingaya's family. The celebration was organized and hosted by Lingaya's students on 13 th September, 2019. The celebration started with the illuminating of ceremonial lamp by honorable Chancellor ,Dr. Picheshwar Gadde, Pro. Chancellor, Prof. Dr. R. K. Chauhan & Vice Chancellor, Dr.D.N Rao. After the lighting of lamp, Saraswati vandana was performed by the students.
The students performed various cultural events like western dance, south Indian dance, bhangra, fashion show, solo and duet singing. The Students participated in Mr. and Ms. Fresher, which was contested in three rounds with the ramp walk, talent round and question-answer session.
The Fashion Show organized by the students brought forward theme of "Save Mother Earth" and spread the message of Protection of our Earth. The theatre performance by the students, beautifully signified the importance of parents and highlighted the cause of being with one's parents during their old age. The talents of contestants were tested and judged by the fashion show judges. The title of Mr. Fresher was given to Mr. Deepak Thakur and Miss Fresher was given to Ms. Reevika Jain.
At the closing ceremony of the fresher's party, Hon'ble Chancellor ,Dr. Picheshwar Gadde, shared that such fresher day programme helps students to know each other. He added that this celebration intends to bring introduction and orientation of the new students with Lingayas family. He blessed the students with certificates, titles, prizes and green saplings.
The programme concluded with prize distribution & photograph session. There were other titles like Best Attitude, Best Smile, Female and male model, 1st Runner up and 2nd runner up. The Freshers day Programme concluded with cheers and celebration with enthrall of students. The Freshers Programme was attended by the Head of Departments, Faculty members and students of Vidyapeeth.