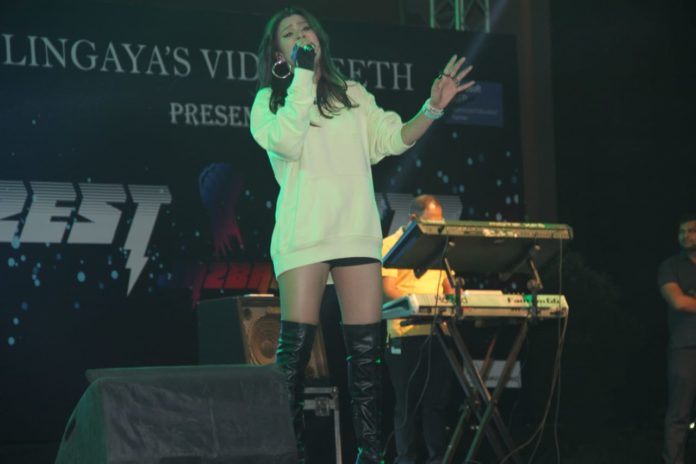 Faridabad News, 09 Nov 2019 : The most awaited ZEST Jazbaa 2K19-Star night has been hosted at the Lingaya's Vidyapeeth on 9th November, 2019. The management of Lingaya's Vidyapeeth extended a warm welcome to the gorgeous playback singer "Aastha Gill".
The musical night was attended by the Hon'ble Chancellor, Lingaya's Vidyapeeth, Dr. Picheshwar Gadde, Secretary, LLDIMS ,Ms. Sunita Gadde, Pro Chancellor, Prof.(Dr) R. K Chauhan, Prof. K .K Garg ,Director, LLDIMS, Dr. Sangeeta Sinha, Deans, Head of Department, faculty, staff members and students of Vidyapeeth.
The students of Vidyapeeth enthralled with immense applaud as the singer delivered the melody.She continued to present more than six live musical symphonies composed by her.
Aastha Gill is an Indian playback singer from Delhi. She is best known as a playback k singer in Hindi films. Her Bollywood playback singing career began with the party song Dhup Chik with entertainer Raftaar and Badshah from the movie Fugly in 2014.She followed it up with songs like Abhi Toh Party Shuru Hui Hai from the movie Khoobsurat with Badshah. She also has a single titled DJ Waley Babu. Her latest track with Badshah is called "Nain".She completed her bachelor's in journalism from Delhi's Vivekananda institute of professional studies (VIPS).
The closing ceremony of ZEST –Jazbaa 2K19 was conducted at the campus of Lingaya's wherein awards and certificates were been distributed to the students.
The ceremony concluded with the ramp walk by the 21 Committees formed for the smooth conduct of ZEST 2k19 with their faculty incharges, heads, subheads and members, followed by the mesmerising special appearance and musical live concert by Aastha Gill.
Lingaya's Vidyapeeth and Lingaya's group celebrated its Annual Zest Jazbaa 2019 with great passion and created a legacy of memories in everyone's life.