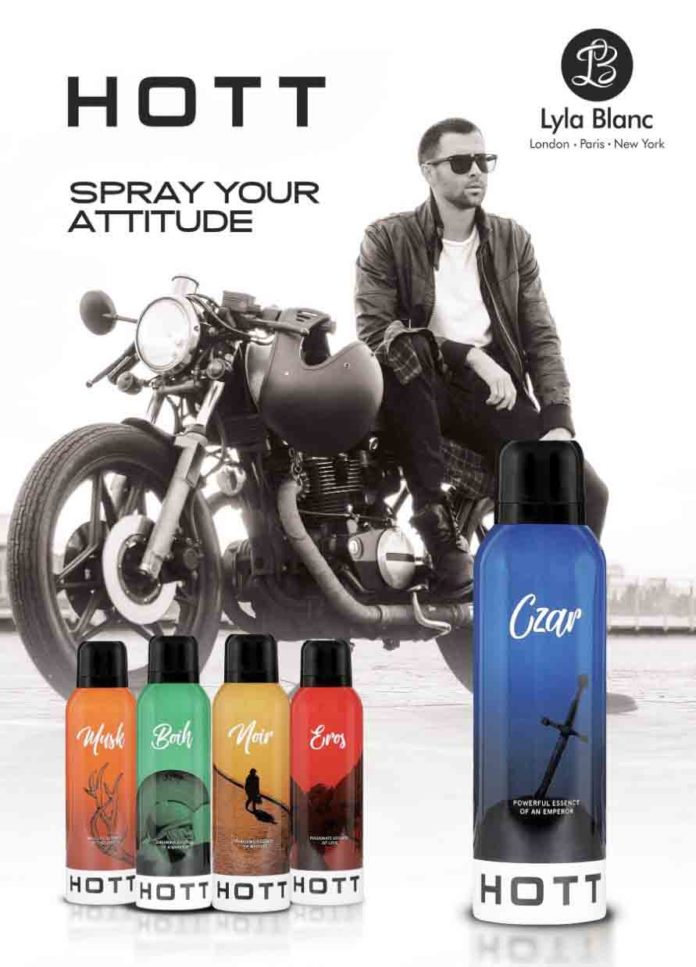 New Delhi News, 16 Jan 2020 : Lyla Blanc, the house of contemporary perfumes and mesmerizing scents and a part of the Fazlani Group, haslaunchedits fragrancesunder 'HOTT'.The luxurious scent, Czar is a unique deodorantwhich is a concoction from the Floral Musky family.Czar is a fusion ofexotic essences and all the three notes give out a distinct aroma that delivers a citrusy freshness and musky fragrance. Belonging to the Floral Musky family, Czar perfectly blends every note to produce an enticing aroma that is bound to captivate your senses. Neroli and bergamot make the top note, ideal for a strong and citrusy aroma. The middle note is composed of patchouli and lavender contributing to the fresh effect. The base note is dominated by a single essence, i.e., musky vanilla, producing a rusty, earthy and floral aroma, all at once. From night parties to morning meetings, Czar from the Hott collection will give you the ideal splash of floral freshness on the go.
Price: Rs. 299/-
Czar is now available at Lyla Blanc.in, Amazon.in, Flipkart.com, Myntra.com, Limeroad.com, Large format retail, beauty and general stores.
About Lyla Blanc Private Limited
Lyla Blanc Pvt Ltd. is a manufacturer and exporter of Fragrances, cosmetics, Bath and Body, and Skincare products for men and women worldwide. Known for high-quality, international packaging, and substantially priced bouquet of finest contemporary fragrances with mesmerizing scents, the company associated with Fazlani Group of Companies, Mumbai (India) to introduce its world-class range of products in Mumbai, India. With a global presence across 75 countries, hundreds of leading importers, and strong business ethics the company has been operating since 1927 to craft quality customer-centric products. For more information, please visit www.lylablanc.in or write to online@lylablanc.com. To view Lyla Blanc's latest news and launches, please visit https://www.lylablanc.in/media-room.