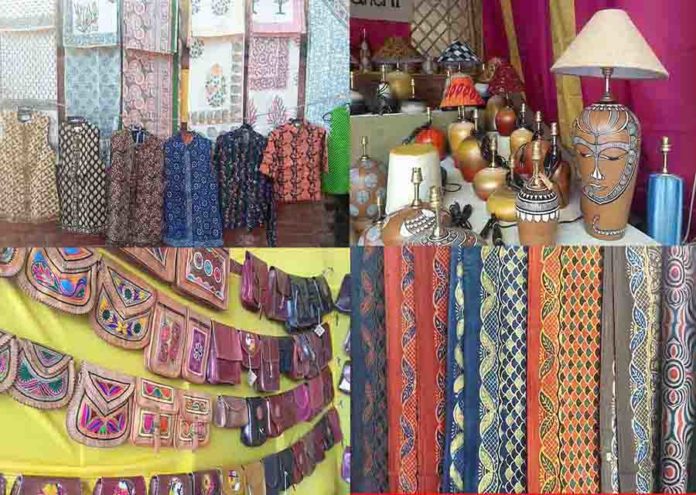 New Delhi News, 11 March 2019 : The Dastkar label of handloom and craft products has become a household name over the years. The current showing is another first-ever in the Dastkar stable as they launch the first-ever Dastkar Nature Bazar a bargain bazaar event for 2019. Besides a wide display of items in the textiles, apparel, Jewellery and handspoon sectors, drawn from producers across 20 Indian states, there is the bonus of discounts on marked items.
As wardrobes are being reworked on, for the forthcoming season, this Bazar is a timely arrival as it is stocked with a wide variety of textile and apparel accessories to suit every taste . The foremost attractions are fabrics in kalamkari and ikat work, as also a choice of printed options from Ajrakh, Sanganer, Bagru, Dabu printmakers, alongside prized Kani and Pashmina shawls. For those with a preference for embroidered personal wear, there are offers in phulkari, zardozi, kantha and sozni workmanship. Weaves from Kitpad, Chanderi, Maheshwari and Jamdani, also add to the round of choices available. As a new arrival, viewers and buyers can feast their eyes on Ukru tribal work as also shibori, and recycled fabric work. The reliable standbys which is a must in every wardrobe, such as indigo, and handloom are available in a wide variety along with jewellery made of fabric, and embroidered footwear.
For homemakers with a yen for something special there are options in pottery from Khurja, glassware, and dhokra from tribal sources as also well-made utility items in bamboo, munj grass and cane. Floor coverings in colourful ari stitchery, crewel work are an option worth looking at. The range of tribal paintings in the Madhubani, Pattachitra, palm laf categories are a must-see when at the bazaar.
For food lovers there is a range of spices to check out at the herbal and organic products counters to replenish stocks. While at the bazaar, one should give a try to the array of Himalayan salts, cold pressed oils, spices and healthy snacks.
The bazaar is a home-maker's one-stop option for personal and home needs this season.
The bazaar is open to visitors from …. An entry fee of Rs 30/- is being charged from all entrants.