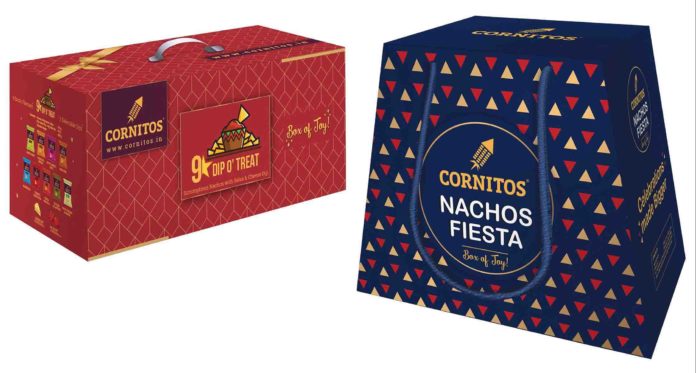 New Delhi News, 12 August 2019 : Enjoy the double dose of festivity with Cornitos festive packs- 9 Star Dip O' Treat Gift pack and Nacho Fiesta Gift pack. Celebrate the freedom to eat guilt free and a reason to pamper your siblings with the Boxes of joy that will make the day extra special.
As the name suggests, Cornitos 9 Star Dip O' Treat will add 9 stars to your celebrations. Gift box contains nine packs of 30g nacho crisps in new, vibrant packaging along with delectable Salsa and Cheesy Jalapeno Dip in 40g blister cups to accompany Nacho Crisps. The flavors offered are Cheesy Sour Cream and Onion, Peri Peri, Sizzlin Jalapeno, Extra Cheesy – Cheese and Herbs, Tomato Mexicana, Tikka Masala, Lime and Mint, Spicy Sweet Chili and Barbeque.
Nachos Fiesta gift pack contains Salsa 4 in 1 tray, two 150g and two 60g Nacho Crisps packs, each in different flavours. Make this festive season crispy and flavourful with Nachos Fiesta.
The ideal packs of celebrations come in attractive packaging and are perfect gifting options for the double celebrations at home.
Price: 9 Star Dip O' Treat- MRP 240
Nachos Fiesta-620g- MRP 350
Availability: It is available in all retail outlets across India.
About Cornitos
Cornitos is the largest brand in the Nacho Crisps category in India. Cornitos Brand Portfolio includes Nacho Crisps, Taco Shells, Chunky Salsa Dips, Cheesy Dips, Roasted Premium Nuts – Cashews & Almonds, Long Peanuts, Pumpkin Seeds, Sunflower Seeds, Party Mix, Coated Green Peas and Pickles – Jalapeno Peppers & Gherkins. Cornitos has an extensive distribution network across Pan India. Complete Range of Products available in Retail, E-Retail and Modern Trade stores. Institutional sales across through Airlines, Horeca, Multiplexes and Cafes. Cornitos products are exported globally, to USA, Australia, China, Singapore, UAE, Saudi Arabia, Maldives, Hong Kong, Nepal, Srilanka, Pakistan, Taiwan, Thailand.
About Greendot Health Foods
Greendot Health Foods Pvt Ltd was the first company to launch Nacho Crisps in Indian snacks. The production facility at Roorkee, Haridwar district, Uttarakhand, is equipped with state-of-the-art processing machinery and is manned by a team committed to quality. GHFL is ISO-22000, BRC and Halal certified company. It also has registrations from FSSAI and US FDA.